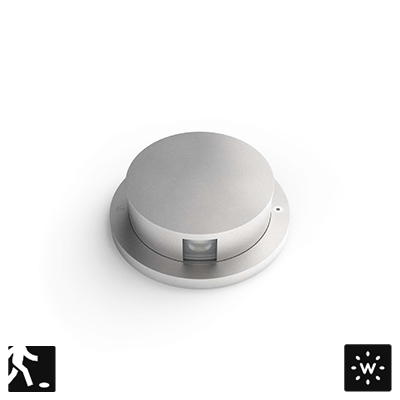 Game Stainless Steel LED Steplight, Ø5.7" x 1.8", 3W / 197 lm per beam, IP66, IP67
Game is a stainless steel, IP67-rated LED steplight with single, double, quadruple or 180° openings that allow for a grazing accent lighting effect suitable for a variety of projects. It is available with a casing for wall or floor installation, 3 optics options, and in 3 standard Hard Coat Treatment finishes. Walkover rated.
Application
On-Grade Steplight
Construction
Body: AISI 316L Stainless Steel
Wattage
3W per beam
Power Supply
Integral 120VAC (N-180); Remote 700mA Constant Current (N-01, N-02, N-03)
CCT
2700K, 3000K, 4000K
CRI
>80
Delivered Lumens
197 lm per beam (3000K)
Optic Options
10°, 30°
Wide (on the N180 version only)
Finishes
Inox Natural
Inox Graphite
Inox Bronze
Accessories
N/A
Bug Rating
B0-U3-G1 (N01 - 10°, 3000K)
B0-U2-G1 (N01 - 30°, 3000K)
B0-U3-G1 (N02 - 10° / 30°, 3000K)
B0-U3-G2 (N04 - 10°, 3000K)
B0-U3-G1 (N04 - 30°, 3000K)
B0-U2-G1 (N180 - Asym Wide, 3000K)
Ingress Protection
IP66, IP67
Impact Resistance
IK08
Hard Coating Treatment is the surface treatment of all the products by Stral Lighting. Available in three finishes Inox Natural, Inox Graphite and Inox Bronze. It guarantees a high superficial resistance to corrosion and atmospheric agents, as well as making the products anti-fingerprint and anti-stain.

Downloads