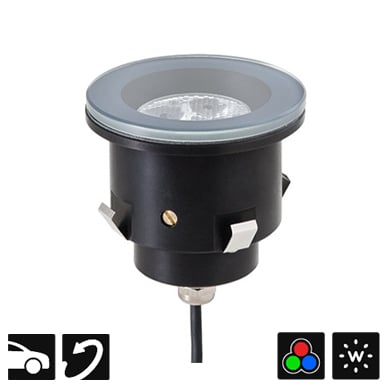 Litus 5.6 LED Adjustable In-Grade Uplight, Ø3.8", 3.5W/5W/7W/RGB, IP67
The Litus 5 series features a sophisticated flush/trimless mount design. With a wide selection of optic options these fixtures are highly versatile for both general and more dynamic lighting. The square version can be used for downlight applications as well. The Bright 3, Smoothy 5 and Litus 5 series all use the same LED.
Application
In-grade Uplight
Construction
Body: Aluminum Alloy EN AW 6082
Lens: Tempered, serigraphed-gray, and
transparent extra-clear glass
Wattage
3.5W, 5W, 7W, 7W RGB
Power Supply
Remote 24VDC Constant VoltageRemote 700mA Constant Current (RGB)
Dimming
Available, See Datasheet
CCT
2700K, 3000K, 4000K, RGB
CRI
>80, >90
Delivered Lumens
463 lm (3000K, 7W, 34°, CRI 80)
374 lm(3000K, 7W, 34°, CRI 90)
RGB: 235 lm: (R) 92 lm, (G) 105 lm, (B) 38 lm
(See Datasheet for more)
Optic Options
9 Standard (white), 4 Standard (RGB)
Finishes
Glass
Accessories
See Datasheet
Ingress Protection
IP67
Impact Resistance
IK08
Fixture equipped with IPS protection system and PID (Protective Impedance Device).

Available Quantity

(3) LT56011FLNV - Fixtures include accessory WE0604S

Downloads