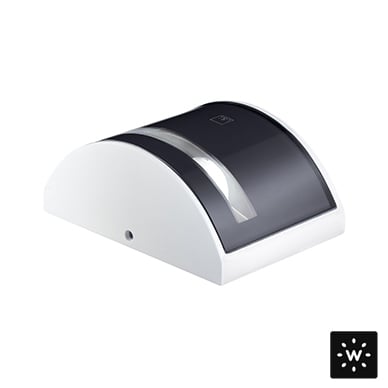 Lyss 1.0 LED Projector, Window Reveal, 5W / 9W, 96 - 169 lm, 24VDC, IP65
Lyss 1.0 is a surface mounted projector for outdoor applications such as windowsills, arches and facades. It is offered in white and blue light with 2 optical options and 4 different finishes. Its small dimensions makes Lyss barely noticeable.
Application
Outdoor Projector
Construction
Body: Die-Cast Aluminum
Lens: Serigraphed Glass
Wattage
5W, 9W
Power Supply
Remote 24VDC Constant Voltage
Dimming
Available, See Datasheet
CCT
2700K, 3000K, 4000K, Blue
CRI
>80
Delivered Lumens
96 lm (3000K, 10°x180°, 5W)
169 lm (3000K, 10°x180°, 9W)
Optic Options
2 Standard, See Datasheet
Finishes
4 Standard, RAL upon request
Accessories
See Datasheet
Bug Rating
B0-U1-G0 (3000K)
Ingress Protection
IP65
Impact Resistance
IK05
Fixture equipped with PID (Protection Impedance Device).

Downloads