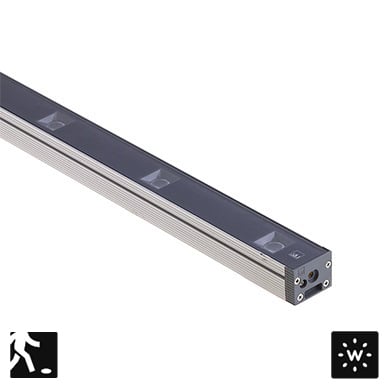 Neva 2.0-2.2 Recessed Linear Profile LED, Various Wattages, 24VDC, IP67
The Neva 2 series is a linear profile with deep-set optics perfect for architectural lighting and outdoor applications. It is available in 4 different lengths. Recessed mounting available with outer casing or surface mounting using adjustable brackets.
Application
Linear Profile - Recessed
(Surface Mount Available)
Construction
Body: Anodized Aluminum
Lens: Tempered and Serigraphed Glass
Wattage
11W, 15W (2.0)
16W, 22W (2.1)
27W, 38W (2.2)
Power Supply
Remote 24VDC Constant Voltage
Dimming
Available, See Datasheet
CCT
2700K, 3000K, 4000K
CRI
>80
Delivered Lumens
See Datasheet
Optic Options
4 Standard, See Datasheet
Finishes
Aluminum
Accessories
See Datasheet
Bug Rating
B1-U1-G0 (3000K, 11W / 15W / 16W, 12°x40°, 30°, 45°)
B2-U1-G0 (3000K, 22W / 27W / 16W, 11°)
B2-U1-G1 (3000K, 38W, 30°)
B3-U1-G1 (3000K, 38W, 11°, 12°x40°, 45°)
Ingress Protection
IP67
Impact Resistance
IK06
Fixture equipped with IPS protection system.
Fixture equipped with PID (Protective Impedance Device) and NTC (Built-In Temperature Sensor).


Learn more about IPS
PID
NTC
Downloads