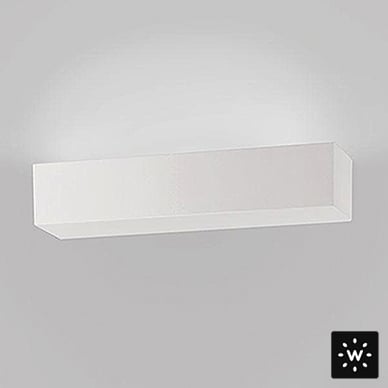 Pipedo Indirect AirCoral® Surface Mounted LED, 19.3" x 3.9", 8W, 1340 lm, IP20
Pipedo Indirect is a surface mounted luminaire with upward light made of AirCoral® that is suitable for indoor installation. It is available in 3000K with a 120° optic as standard.
Application
Wall Mounted
Construction
Body: AirCoral®
Lens: Frosted Glass
Wattage
8W
Power Supply
Integral 120-277VAC
CCT
3000K (2700K, 4000K on request)
CRI
>90
Delivered Lumens
1340 lm (3000K)
Optic Options
120°
Finishes
AirCoral® - Paintable Plaster
Accessories
N/A
Ingress Protection
IP20

The body is made of Aircoral® a unique patented composite material that actually purifies the air. We can calculate how many cubic feet each fixture will purify.

*{margin:0;overflow:hidden;padding:0;}html, body{height:100%}a{align-items:center;display:flex;height:100%;justify-content:center;position:relative;text-decoration:none;width:100%;}img{bottom:0;margin:auto;object-fit:cover;position:absolute;top:0;width:100%;z-index:0;}button{appearance:none;background-color:rgba(0, 0, 0, .5);border:none;border-radius:15px;color:white;cursor:pointer;display:block;font:48px/1.5 sans-serif;line-height:1;padding:.3em .5em .2em;position:relative;text-align:center;vertical-align:middle;z-index:1;}button:hover, button:focus{background-color:rgba(0, 0, 0, .75);transition:background-color .25s ease}
">
Watch Video
Downloads