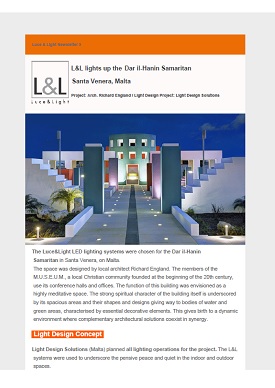 Dar il-Hanin Samaritan Project
L&L lights up the Dar il-Hanin Samaritan – Santa Venera, Malta
The space was designed by local architect Richard England. The members of the
M.U.S.E.U.M., a local Christian community founded at the beginning of the 20th century,
use its conference halls and offices. The function of this building was envisioned as a
highly meditative space. The strong spiritual character of the building itself is underscored
by its spacious areas and their shapes and designs giving way to bodies of water and
green areas, characterised by essential decorative elements. This gives birth to a dynamic
environment where complementary architectural solutions coexist in synergy.