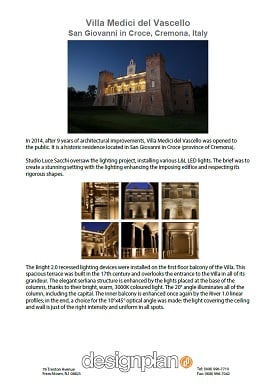 Villa Medici del Vascello
San Giovanni in Croce, Cremona, Italy
In 2014, after 9 years of architectural improvements, Villa Medici del Vascello was opened to
the public. It is a historic residence located in San Giovanni in Croce (province of Cremona).
Studio Luce Sacchi oversaw the lighting project, installing various L&L LED lights. The brief was to
create a stunning setting with the lighting enhancing the imposing edifice and respecting its
rigorous shapes.