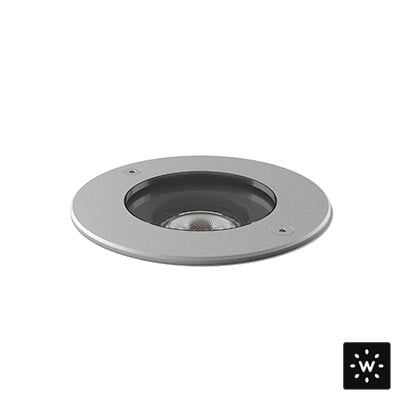 Oly Stainless Steel Recessed LED Uplight, 3 Sizes, 5W / 12W / 24W, 1540-3000 lm, IP66, IP67
Oly is a round, recessed, stainless steel LED uplight suitable for outdoor installation in the ground or floor for illuminating facades and architectural spaces. It is available in 3 sizes, with 3 color temperatures, 3 optic options, and 3 Hard Coat Treatment finishes.
Application
Recessed Uplight
Construction
Body: AISI 316L Stainless Steel
Lens: 0.31" Extra-clear, Tempered Glass
Wattage
5W (N110), 12W or 18W (N180), 24W (N240)
CCT
2700K, 3000K, 4000K
CRI
>80
Delivered Lumens
1540 lm (6.8", 12W, 3000K)
3000 lm (9.3", 24W, 3000K)
Optic Options
21°, 45°, 65°
Finishes
Inox Natural
Inox Graphite
Inox Bronze
Accessories
See Datasheet
Bug Rating
B0-U3-G0 (N110)
B0-U5-G0 (N180, N240)
Ingress Protection
IP66, IP67
Impact Resistance
IK09
Hard Coating Treatment is the surface treatment of all the products by Stral Lighting. Available in three finishes Inox Natural, Inox Graphite and Inox Bronze. It guarantees a high superficial resistance to corrosion and atmospheric agents, as well as making the products anti-fingerprint and anti-stain.